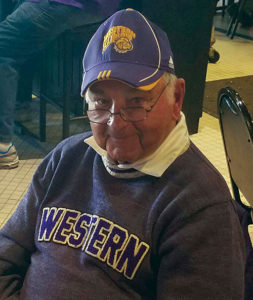 Tragically, our 2017 Heritage Days Parade Grand Marshal, C. Don Weston, died on March 31, following a multi-vehicle accident. The senior practicing lawyer in McDonough County, Weston , who was eighty-four, was born in Macomb on February 22, 1933.
Weston graduated from Western Lab School in Macomb and Knox College in Galesburg. While in college, he joined the R.O.T.C., and soon afterward he served as an officer in the U.S. Army.
He attended the Georgetown University Law School in Washington, D.C. Upon his graduation, Weston returned to McDonough County to practice law for a few years in Bushnell and then for many years in Macomb.
A Republican, Weston was elected McDonough County State's Attorney in 1964. He considered his most significant case to have been the People v. Lefler. It was a baby-shaking case which had resulted in the death of a child. Extremely controversial in McDonough County, the case was tried before a jury in Knox County, where Weston obtained the conviction of the defendant.
An able lawyer, Weston's fifty-plus years of practice involved representing a multitude of clients, many of whom he called his friends. He was meticulous, detailed, and always well prepared when he stepped into the courtroom. Clients loved him, and his fellow lawyers highly respected him. He was a true professional and a very good lawyer.
An avid fan of WIU and Macomb High School sports, Weston usually attended their football and basketball games. A member of the Leatherneck Club, he was almost always at the Monday Downtown Athletic Club meetings, and he often traveled to support the local teams. He was also a founding member of the Bulls and Bears Stock Club, and over the years he was the "glue" that held that club together.
Survived by his wife of fifty-one years, Marjorie Weston, and their four children, C.Don Weston will be represented by family members in this year's Heritage Days Parade.
By Kent Slater