Heritage Days 2023 Music Lineup
Thursday Night:
Municipal Band - 5:45-6:45
Friday Night:
Duke & The American Dream - 6:00-7:15
Gerald "The Soul Keeper" McClendon - 7:30-8:45
Heartsfield - 9:15-10:30
Saturday Night:
Ayodele Drum & Dance Ensemble - 4:45-5:45
Real Pretenders – 6:00-7:15
Win Noll & The Rockin' Souls - 7:30-8:45
The 40 Acre Mule – 9:30-11:00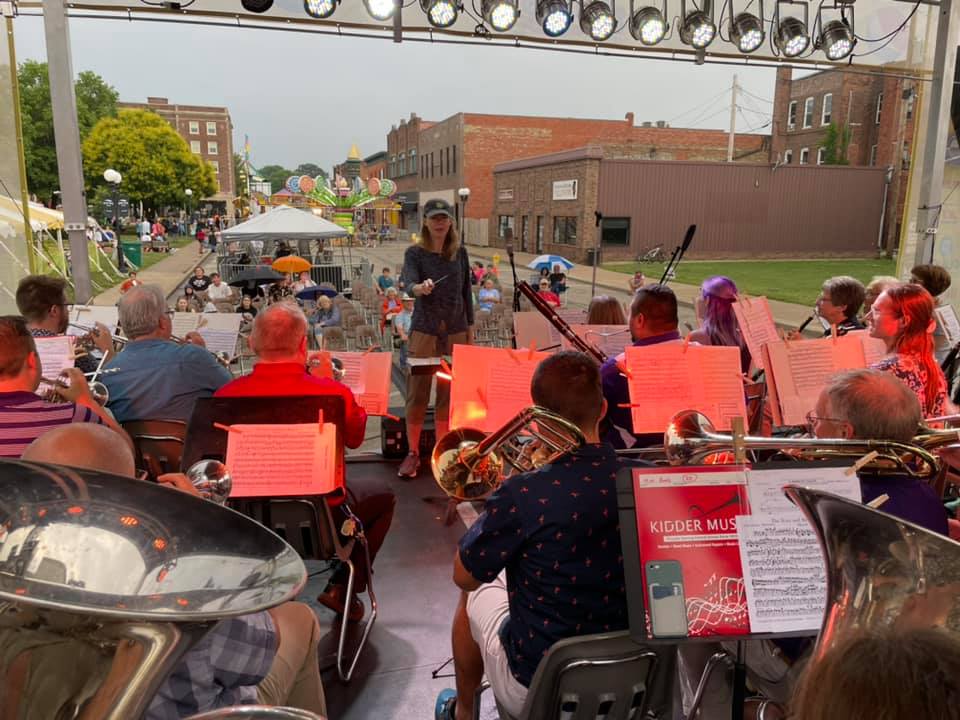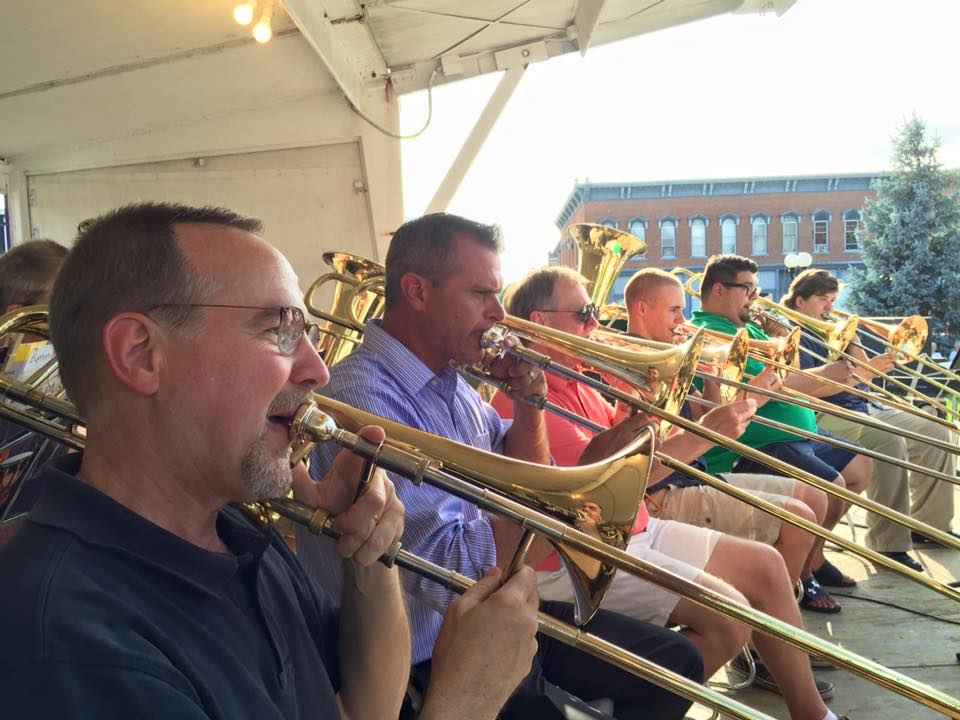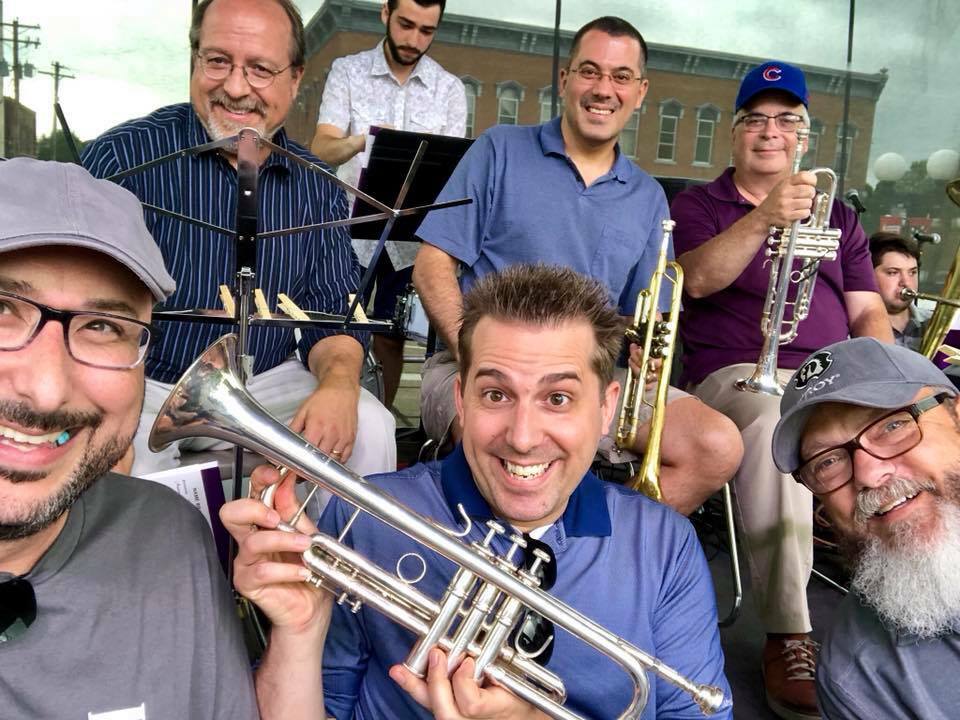 It's been customary that the musicians forming the Macomb Municipal Band perform at the annual opening of Heritage Days, now in its 41st season. But there's a tradition our loyal Municipal Band has steadfastly been a part for far, far longer than that.
Previous to 1852, there had never been an organized brass band in McDonough County. Under the vision of Dr. G.M. Huggins and William Patterson, the first Macomb Band was formed in 1852 and consisted of 12 members playing Eb clarinet, Bb clarinets, cornets, bugles, French horns and ophicleides. Led by conductor Patterson, the first engagement of the band occurred on July 4th, 1852, where the band sat on a wagon and traveled from Col. Bailey's home, around the square, west on Jackson St, ending at the Present day 4H grounds (owned at that time by the daughter of Edward McDonough). The Macomb Journal reporters declared the performance a success writing, "The boys of 1852 performed wonders and the spectators could readily recognize the tunes they attempted to play."
This chronical was unearthed through diligent research of the band's current director Mike Fansler. He adds, " [That's] what I've gathered - someone can try to debunk this, but I wish them luck." Fansler also noted that while doing his dissertation work on the history of the Western band program, he went through numerous historical newspaper issues.
Fansler is the well-known Professor of Music and director of bands and conductor of the wind ensemble and chamber winds at Western Illinois University, where he also leads the graduate wind conducting program and teaches undergraduate music education courses.
For the past 60 years, the majority of the concerts have been led by the director of bands at Western Illinois University. Fansler, took over the reins in 2005 and says, "We've had so many musicians play for our town's band and many are considered legends by those who come to hear us each year. There are far too many names to list, but our main attraction is Bruce Briney, who has remained our solo cornetist for decades, (and even conducted the band for a time!)" Today the Macomb Municipal Band has 35 to 40 members on stage per performance, with a total pool of 60 musicians.
The Macomb Municipal Band welcomes all players and enjoys the status of being a true community band. The group does pull off some amazing performances, typically having only one rehearsal before a concert. The music they play includes marches, showtunes, major orchestral transcriptions and concert band music written by living composers. Fansler says, The reason the Macomb Municipal Band has been able to continue over 170 years of success is by the "incredible support from our mayor, a never-ending assortment of selfless musicians, and a community that still loves to attend and listen to live music in their own beloved community."
And just as the tradition started in1852 with the Municipal Band performing patriotic music at Macomb's Independence Day celebration, they will continue into an impressive 17th decade faithfully entertaining our citizens at this year's July 4th fireworks display. "It's pretty significant and very historic," Fansler concludes. "It's one of the hidden treasures of our city."
And we couldn't agree more. Don't miss the civic pride and pomp of our historic Municipal Band as they kick-off Macomb's 41st Heritage Days live from the Pepsi Main Thursday, June 22 at 6:00PM.
For more info follow Macomb Municipal Band on Facebook: https://www.facebook.com/MacombMuniBand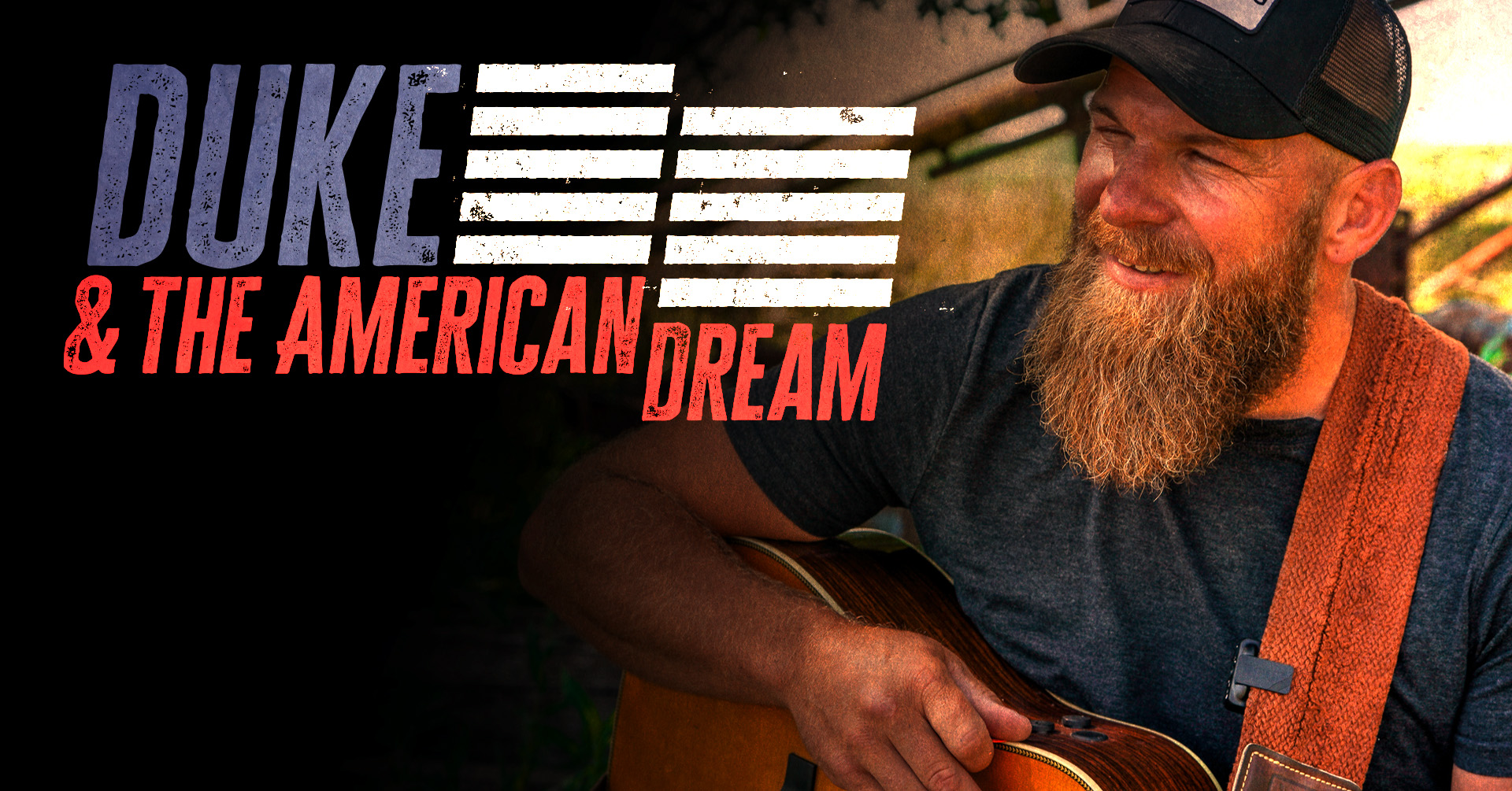 DUKE & THE AMERICAN DREAM
Country / Americana / Rock
Duke Oursler is an American heartland country singer and songwriter that we're proud to say is one of Macomb's very own. His thoughtful, honest and direct lyrics speak to the nostalgia, virtue and aspirations of his midwestern upbringing.
Duke's songs are rooted in Illinois' sturdy Mississippi River banks. His unique brand of American country rock is filled with stories of tumultuous floods ("Pushing Mud") and hardworking blue collar existences ("Bootstraps"). Oursler's themes often critique the "notion" of the "American Dream." He does this by contrasting economic and cultural tropes with a belief in unity that weaves spiritual stories of friendship, family and rural Americana into rustic poetry.
Oursler has been creating his own individual style for two decades, during which he's shared the stage with national acts such as Hello Dave, Miles Nielsen & The Rusted Hearts, Chicago Farmer, Joe Stamm, Them Coulee Boys, and many more.
Duke, along with his band The American Dream deliver live shows that are vibrant, soulful and truly authentic, which effortlessly mix Oursler's originals with tastefully selected covers from Zach Bryan to Tyler Childers to Johnny Cash.
With honesty, authenticity and genuine wit, Duke and the boys deliver tight harmonies with masterful musicianship, creating impressively energetic performances that belt out relatable stories of midwestern life in America's Heartland.
Duke is also a WIU Professor of Art who, among many other projects has brought Macomb the Sculpture Tour, created WIU's Col. Ray Hanson bronze statue and is the artist behind our Living Lincoln Topiary Monument which stand as the centerpiece of our Abraham Lincoln National Heritage Area Looking For Lincoln Self-Guided Tour.
Don't miss Duke & The American when they pull up their bootstraps and take the Pepsi Mainstage at Heritage Days Friday, June 23 at 6:00PM!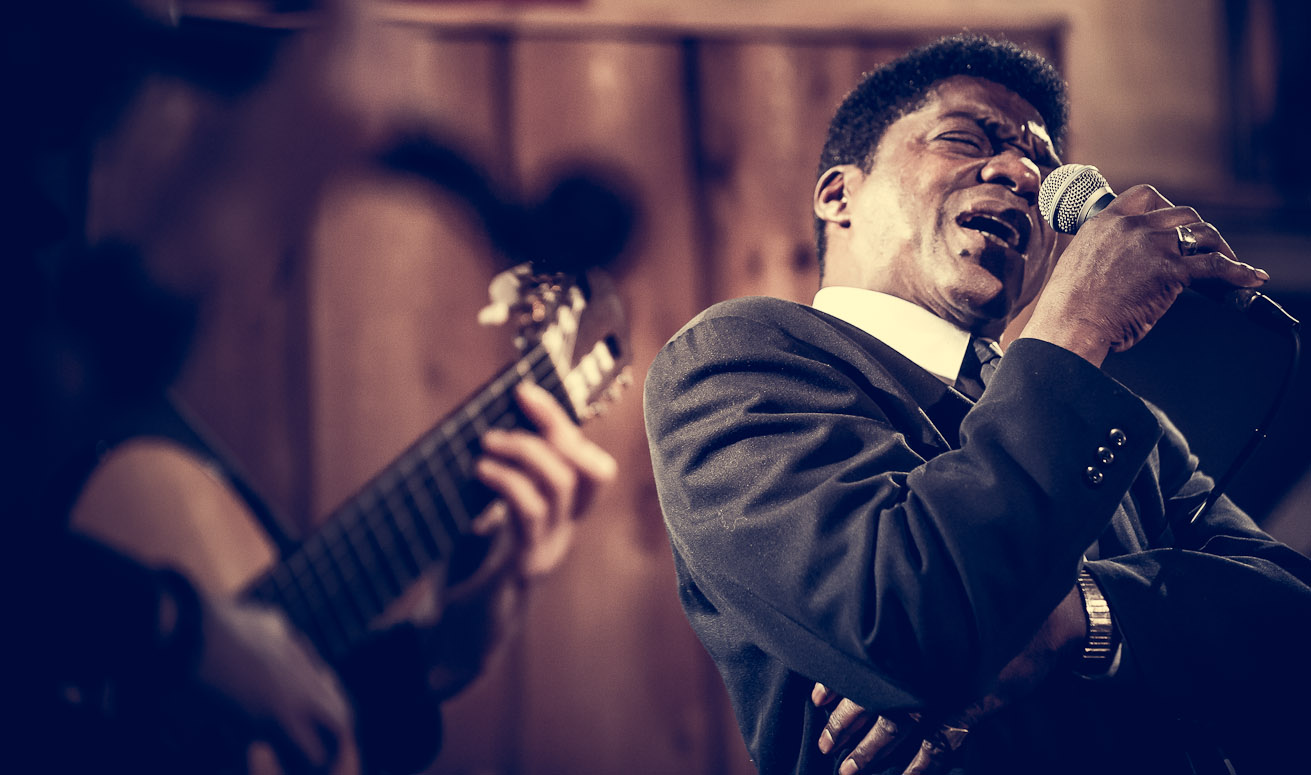 Gerald "The Soul Keeper" McClendon
Classic Soul and Rhythm & Blues
After his highly anticipated performance was rained out last year, one of the most versatile and evocative Soul and R&B singer/songwriter/performers, Gerald McClendon makes his return to Heritage Days, and for it, we're all luckier.
Known in Chicago as "The Soulkeeper," McClendon has graced the stages of sellout crowds in practically every major entertainment venue in the Midwest. Additionally, his unique performances have captivated audiences internationally in locations as far off Asia and Australia.
If you love R&B and Classic Soul music, you'll truly adore Gerald McClendon and his extraordinary ability to interpret the definitive sounds of Motown, Stax and Atlantic records. His inspiration; the enduring artists of the era, Otis Redding, The Temptations, Smokey Robinson, The Chi-Lites, Stevie Wonder, Ray Charles and Frank Sinatra.
Born and raised in Chicago, Gerald was drawn to music at the tender age of four, singing along with the mesmerizing tunes emanating from the radio. Since that time he's become a multitalented artist proudly paying homage to his early influence; Marvin Gaye, Wilson Picket and Otis Redding. His love of music reaches far beyond his favored milieu, as "The Soulkeeper"  as McClendon is as prolific in Rock, Blues, Country and Jazz as he is with Soul and Rhythm & Blues.
Gerald's debut LP, CHOOSE LOVE, spotlights his truly original voice and lyrics. The record embraces his influences while still keeping the songs fresh and innovative. His artistry and songwriting style allows him the rare ability to take a song that has been ingrained in the public consciousness, reshape it and make it his own without losing its original essence.
Over thousands of performances, McClendon has performed in a variety of settings and genres, from composing music for theatrical plays, to Las Vegas Rock-N-Roll Fantasy Camp performances with rock legend Todd Rundgren, to the House of Blues asking Gerald to contribute to their CD compilations.
Gerald and his incredibly versatile band have held residency at Chicago Supper Club Untitled and his latest project delivers a unique and intriguing blending of the songs of Otis Redding featuring "The Guitars of Spain."
When one considers, McClendon's ability to coax an audience into losing themselves in his music, there is no doubt that "The Soulkeeper" will continue to be a major attraction at clubs, festivals and private events for years to come.
So get ready to tap your feet, wiggle your booty and dance the night away as you witness the experience that is "The Soulkeeper" Gerald McClendon when he takes the Heritage Days' Pepsi Main Stage Friday night, June 24th at 7:30. It's gonna be SOUL good!
Tour dates, photos, videos and more: http://www.geraldmcclendon.com
Find them on: https://www.facebook.com/GeraldMcClendonMusic/?ref=page_internal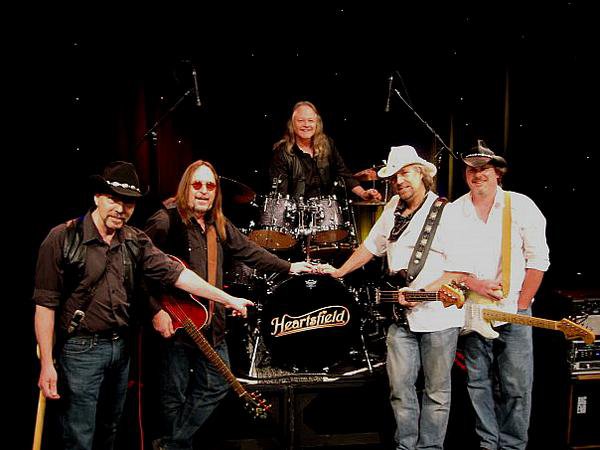 Classic Cosmic Country Rock
" Heartsfield, is a fantastic bunch of guys who can play and sing with anyone in the world. We do lots of gigs with Heartsfield and always have a ball!, The audience genuinely loves them, and they are a really hard act to follow."
- Commander Cody
Heartsfield formed in 1970 by guitarists J.C. Hartsfield and Perry Jordan have toured the United States in every decade since. They've performed over 5,000 shows around the world in front of millions fans from stadiums and amphitheaters to fairs and festivals to colleges and universities.
After releasing 12 albums, selling millions of records, and pioneering the Americana-based Southern/Country/Folk Rock music for which they are known, Heartsfield continues to thrill audiences with their complex intertwined lead guitar riffs which have become indicative of the music style they helped create. As are their three and four part harmonies that have been their crowd pleasing trademark for five decades.
Heartsfield are recognized for that tight vocal harmony style and their layered rootsy instrumentation that's characterized by accents of pedal steel, dobro, banjo, and mandolin. In fact, they have been credited with influencing such monster acts as The Dave Matthews Band and Phish.
The group is also well-known for their grueling, Grateful Dead-like touring ethic, which saw them playing 300 shows a year throughout the '70s with the likes of Eric Clapton, Fleetwood Mac, Steve Miller, Pure Prairie League, Joe Walsh and Willie Nelson, among literally dozens more. And over those decades of touring, the early years found them playing Macomb and Forgottonia on several occasions.
Having first signed to Mercury and later Columbia Records, Heartsfield has produced Billboard charted albums and numerous FM radio favorites among them "House of Living" "Music Eyes," "Shine On," "The Only Time I'm Sober Is When You're Gone," "I'm Comin' Home," and "Racin' The Sun."
Heartsfield's "Another Man Down" made the book list of Counting Down Southern Rock: The 100 Best Songs, with their eponymous LP Heartsfield, listed at number 32 on the 100 + 1 Best Southern Rock Albums.
The band's shows focus on their numerous hits and fan favorites, as well as some of their favorite songs by friends with which they've toured over the years, including The Doobie Brothers, Stephen Stills, Creedence Clearwater Revival, and other well-known colleagues.
Heartsfield are, original founding member Freddie Dobbs (lead guitar, acoustic guitar, and vocals), Andon Davis (lead guitar, acoustic guitar, mandolin, and vocals), Scott Bonshire (drums), Steve Eddington (bass guitar and vocals), and Dave Nelson (lead guitar, acoustic guitar, dobro).
Don't miss Heartsfield for their long awaited reunion with Macomb as the saddle up on the Heritage Days' Pepsi main stage, Friday night, June 23 at 9:15! Yee Haw!!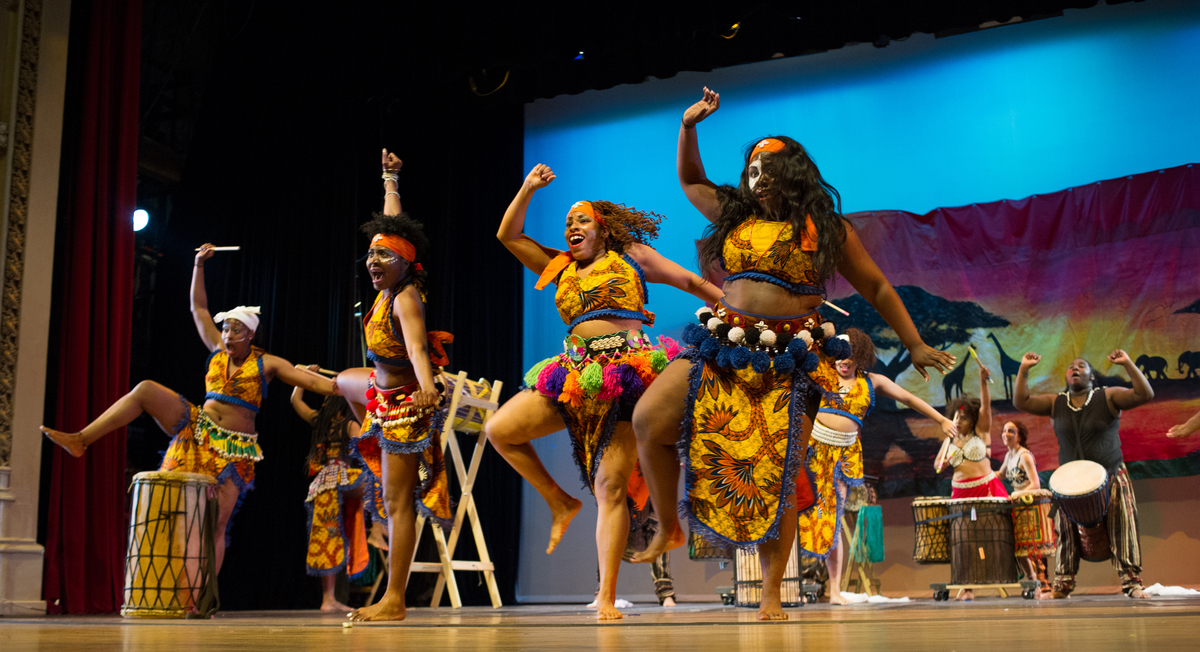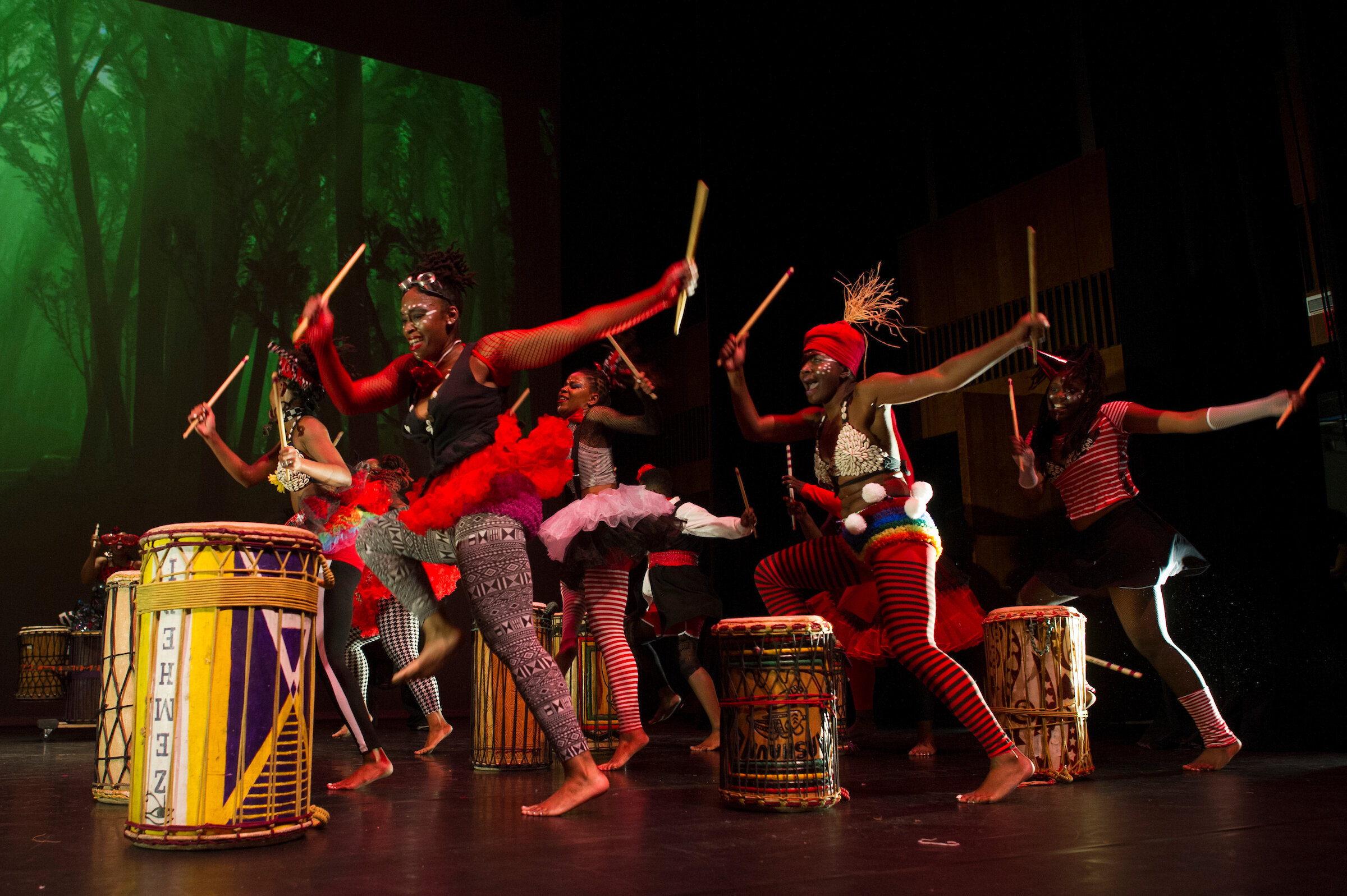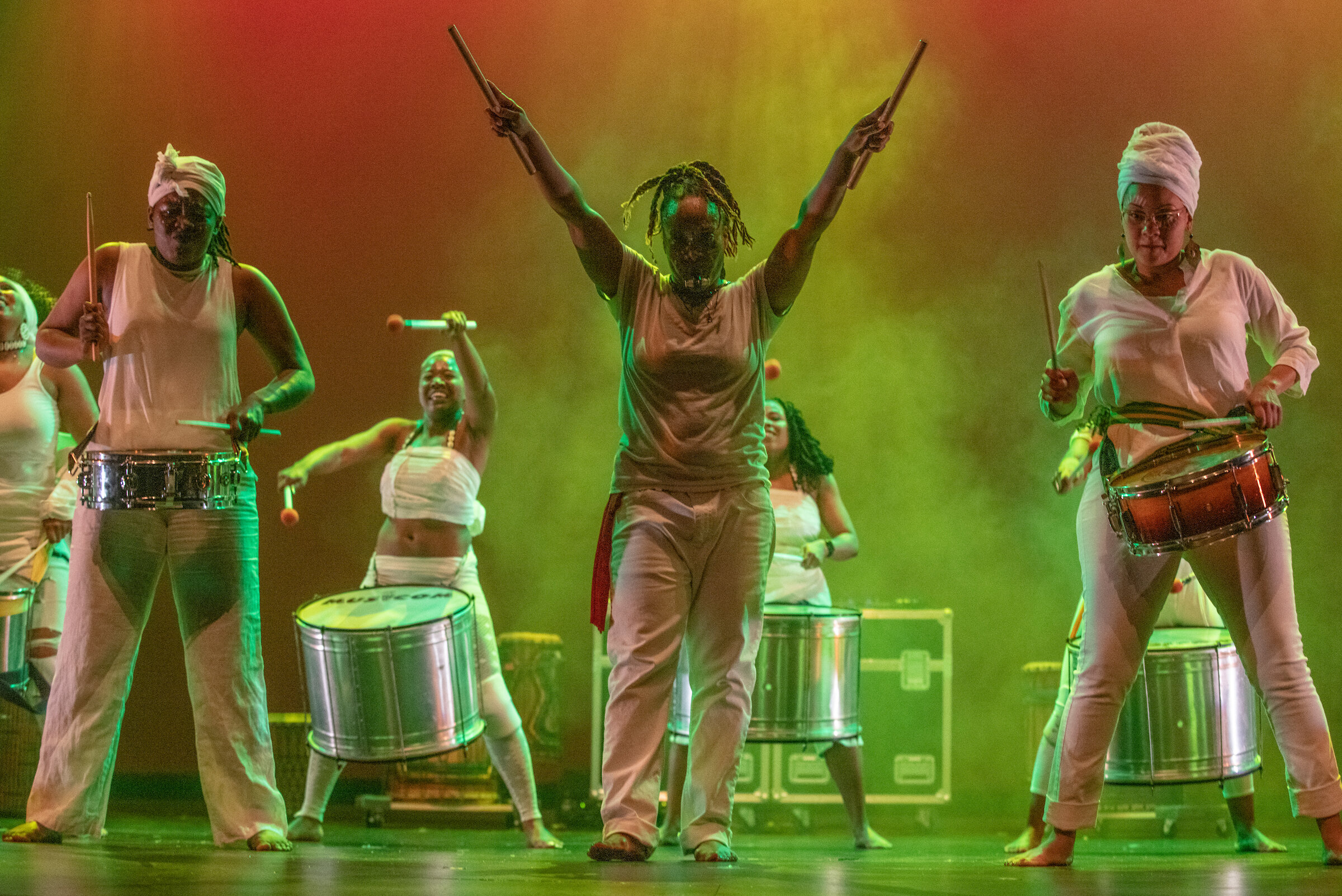 Ayodele Drum & Dance Ensemble
Ayodele are an African-American company that performs and teaches West African drum and dance. The company uses traditional West African rhythms and dances to tell stories rooted in African and African-American experiences. They also use dance to promote healing and wellness among women and children.
In 2007, seven African dancers came together to learn the art of the drum to enhance their dancing. The sisters were led by Tosha 'Ayo' Alston and the seed of Ayodele Drum & Dance was planted. Incorporated as a 501(c)(3) nonprofit in 2011, that seed continued to flourish.
Ayodele, a Yoruba word meaning "Joy in the home", is now a diverse sister-circle of performing artists committed to studying and performing drum and dance as a wellness modality. We've grown from that circle of seven to over twenty Queens who use African drum and dance to educate and motivate young women and children through performances, community engagement, and our youth program.
Ayodele Drum & Dance Ensemble offer a youth program and community classes. They also provide arts residencies as a certified vendor in the Chicago Public School system and have worked with youth in After School Matters for the past 5 years. Ayodele have also partnered with CPS schools to receive Creative School grants from Ingenuity.
Whether they are teaching children, healing the community with classes, studying with female Samba Masters in Brazil, Master Djembe and Dununfolas of West Africa, or spreading their special healing energy through performances; Ayodele Drum & Dance remains an unending circle firmly rooted in joy.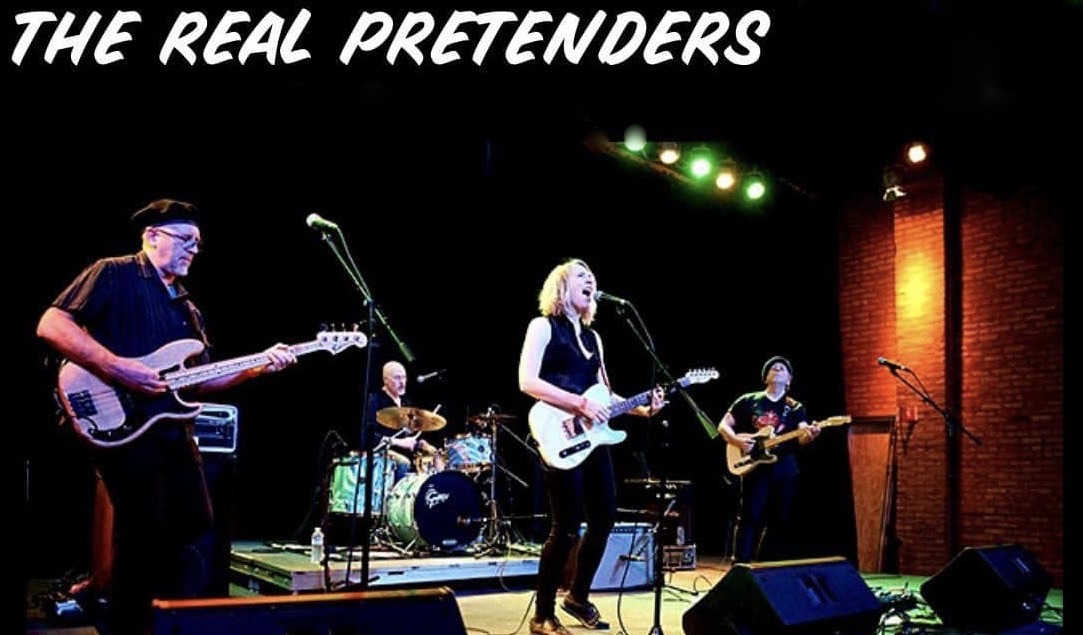 Tribute to the music of Chrissie Hynde & The Pretenders
Real Pretenders are four Chicago music scene veterans with a passion for the hard-driving rhythms, catchy melodic hooks, soul-tortured lyrics, and back alley sex appeal that characterize the music of the Pretenders.
They aren't a costume act; they don't play the original members of the band as characters. Instead, these established players, with audiences of their own, have come together to thread the musical needle between faithfully rendering the Pretender's sound and joyfully harnessing these timeless and lustful pop rock gems as a means to expressing their own musical identity.
Not only do they take on both the band's classics and deep cuts, they also offer a new take on songs covered by the Pretenders, as well as those that perhaps might have been. Real Pretenders aren't simply a tribute to the music of the Pretenders, they are a tribute to their essential spirit.
Real Pretenders take the Heritage Days stage Saturday night at 6:00 for a show that promises to be the Talk Of The Town. Do not miss.
Naomi Ashley- lead vocals, guitar
Ralph Baumel- bass
John Carpender- drums
Andon Davis- guitar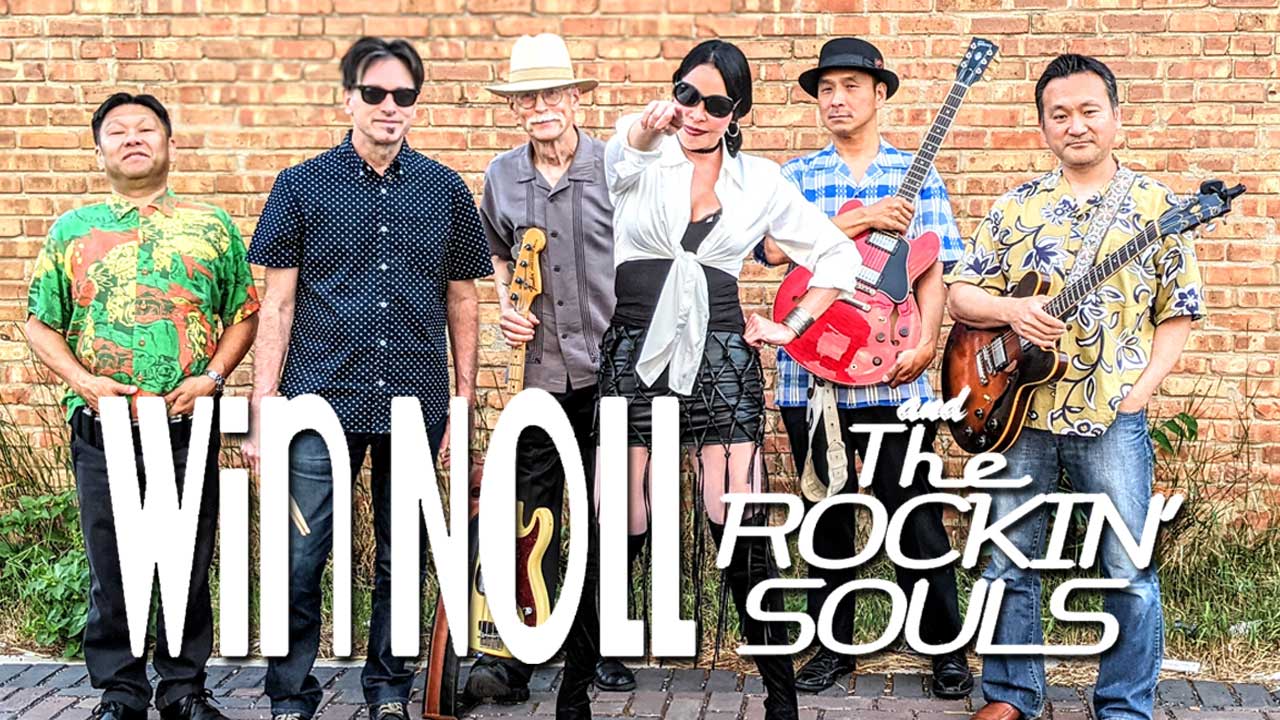 Win Noll & The Rockin' Souls
Blues and R&B
Using their home base as inspiration, Win Noll & The Rockin' Souls belt out their own unique and captivating take on classic Chicago Blues and R&B. The band's varied repertoire take audiences on a musical voyage from Etta James to Adele, Chuck Berry to Lenny Kravitz, Susan Tedeschi to Amy Winehouse with a few powerful originals sprinkled throughout for good measure.
Win Noll & The Rockin' Souls recently won the Chicago Blues Challenge for the best group, which lead them to representing Chicago at the International Blues Challenge in Memphis, TN.
This highly inventive six piece collectively of veteran musicians is a guaranteed foot stompin' good time who command attention and consistently leaves audiences wanting more. Win Noll & The Rockin' Souls thoroughly entertain.
Don't miss Win lead the Rockin' Souls on their debut appearance on our Heritage Days Pepsi main stage Saturday, June 24th at 7:30PM.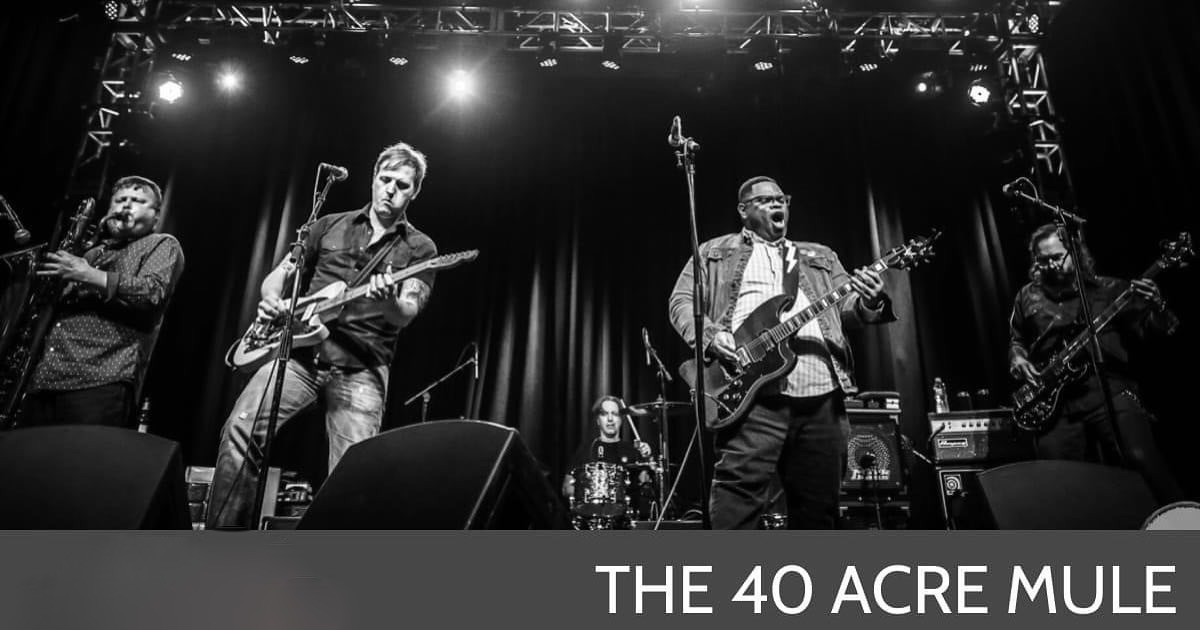 Honky-tonk / Country Rock / Gospel / Rock & Roll
"The 40 Acre Mule formed in 2015, but the band's revivalist boogie-woogie points to a healthy appreciation for 20th century rock & rollers like Chuck Berry. A horny hell-raiser punctuated by saxophone solos, guitar riffs, and a raucous rockabilly shuffle, "Bathroom Walls" is a fresh take on a familiar sound, tied together with a risqué storyline about restroom graffiti and late-night trysts."– Rolling Stone
The 40 Acre Mule were set to take the Heritage Days stage last June, when the skies opened to a torrential down fall that forced the performance to be cancelled. Not wishing to leave the crowd totally disappointed, the band grabbed their gear and treat folks to an impromptu four song set that brought the house down with a promise of returning this year. And good to their promise The 40 Acre Mule will be back!
The Roots Rock & Roll 5-piece describe themselves as a "Rhythm & Blues Outfit" and they're a powerhouse of vintage revival with a reputation for seamlessly blurring the lines between country, soul and rock audiences with songwriting that borders between blues drenched heartbreak and an old school riot in the streets!
Influenced by the pillars of Rhythm & Blues like Chuck Berry, Little Richard, Bo Diddley and Ray Charles, and inspired by recent artists such as J.D. McPherson, Nathaniel Rateliff and Gary Clark Jr., The 40 Acre Mule, featuring J. Isaiah Evans: Guitar & Vocals, Robert Anderson: Drums, Tim Cooper: Bass, Chris Evetts: Baritone Sax & Percussion, and John Pedigo: Guitar & Vocals, quickly built their own unique sound by blending vintage Rock & Roll, Rhythm & Blues, Soul and just a touch of Country. It was a sound that soon caught on with The James Hunter Six, The Reverend Horton Heat, Eleven Hundred Springs, Ken Bethea of Old 97s, Alejandro Escovedo, Rosie Flores and more.
Since forming in Dallas, Texas in 2015, The 40 Acre Mule has built a loyal following the old-fashioned way, they earned it! Playing countless bars and packed clubs, they watched crowds grow mainly by word of mouth. As the crowds caught on, so did the likes of legendary promoter Scott Beggs and Jim Heath (The Reverend Horton Heat) who gave The 40 Acre Mule their first break with an opening slot at a SOLD-OUT show at Dallas' legendary Bomb Factory. From there, opportunities to open for more superstars of roots music came along helping The 40 Acre Mule spread their brand of Rhythm & Blues music.
Playing to such diverse crowds has made their fanbase explode. "We've gone from 10 or 15 friends in a dive bar on a Tuesday to playing full-on festivals without even having an album out yet. That says something. I think we're making music that people from all walks of life…country fans, soul fans, rockabilly fans…find comfortable and familiar. It's because all those genres can trace their roots to Rhythm & Blues, the very backbone of Rock & Roll ", says J. Isaiah Evans
In 2019, the band released their critically acclaimed debut album, Goodnight & Good Luck, on State Fair Records making several "Best Of" lists that year. Rolling Stone said, "the band's revivalist boogie-woogie points to a healthy appreciation for 20th century rock & rollers". Central Track called their performances, "...a powerhouse of R&B revival, with touches of golden era rock, boogie and subtle hints of country mixed in."
After years of putting in the work, The 40 Acre Mule followed in the footsteps of good friends and emerging Americana stars, The Vandoliers and Joshua Ray Walker, and signed with State Fair Records. After that, the good times kept rollin' with the announcement that The 40 Acre Mule would be part of HomeGrown Festival 2019, AmericanaFest in 2021 and an Official Showcasing Artist at SXSW 2022! Recently, The 40 Acre Mule have been hard at work in the studio, perfecting their sophomore album. Since then they've hit the road with Old 97s and The Delta Bombers and an incendiary four song set at The Café on Macomb's Square, after being rained out at last year's Heritage Days, The 40 Acre Mule will make a triumphant return, exploding onto the Macomb Heritage Days' Pepsi Main Stage Saturday night June 24th at 9:15!
It's a show we're absolutely certain you don't want to miss!!
Tour dates, photos, videos and more on The 40 Acre Mule website: http://the40acremule.com/
Find them on:
https://www.facebook.com/40acremule/about/?ref=page_internall