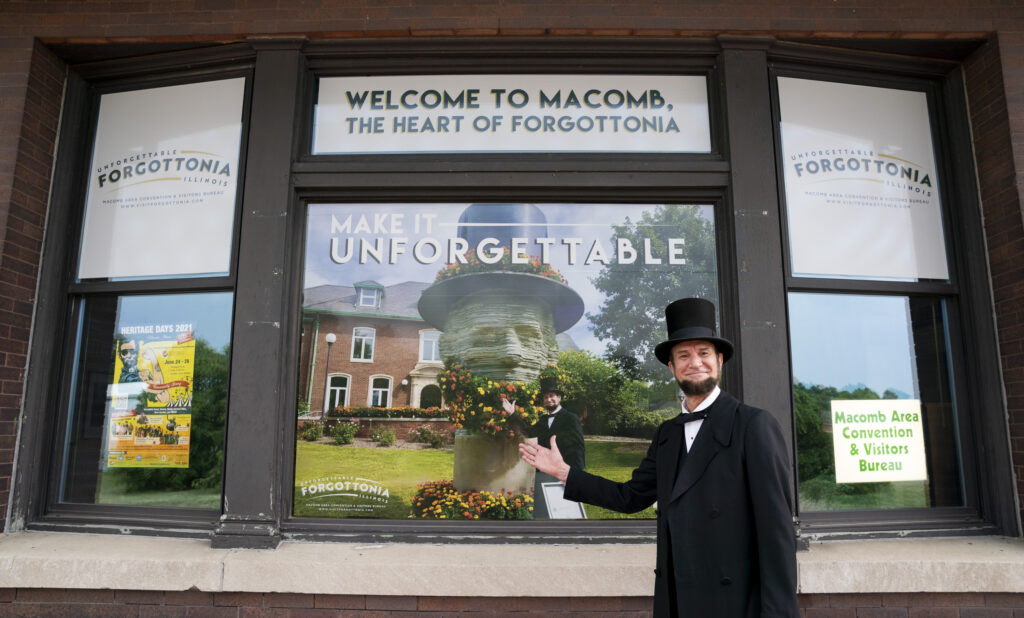 In their continue campaign to bring awareness of Abraham Lincoln's connection to our community, Unforgettable Forgottonia's Macomb Area Convention & Visitors Bureau through the courtesy of the Looking For Lincoln National Heritage Area will present Abraham Lincoln in person at Heritage Days Friday June 24th in Chandler Park.
Appearing as Lincoln is actor Michael Krebs who is one of the foremost Lincoln interpreters in the nation.  Krebs has portrayed Abraham Lincoln in film, television, theatre and live presentations throughout the United States since 1994 offering insight to the 16th President's life and times.
Krebs is a native of Freeport, Illinois, and former company member of New American Theater in Rockford, Illinois. He was cast as Abraham Lincoln in 2014 film Field of Lost Shoes opposite veteran Emmy-winning actor Tom Skerritt in his role as General Ulysses Grant. Micheal's appearances also include the Abraham Lincoln Presidential Library and Museum, the Gerald Ford Presidential Library, Hoover Presidential Library, Chicago History Museum, Gettysburg, and New Salem, Illinois' Historic Site, among countless others.
Krebs presented Abraham Lincoln at Abraham Lincoln Presidential Library and Museum during international simultaneous reading of Gettysburg Address in 2009. Past credits include presentation in Library of Congress' Lincoln's Virtual Library in 1998, and live broadcast of the Galesburg Lincoln-Douglas Debate in 1994 on C-SPAN. In 2014 Krebs appeared as Lincoln for the dedication and Veterans Legacy Summit events of Patriot Plaza at the National Cemetery in Sarasota, Florida.
2020 credited Krebs portraying Lincoln in an new one act play A Walk To Respect which premiered in Sarasota, Florida. That same year he also guest stared on NBC television's Timeless series in the episode, The Assassination of Abraham Lincoln.
Debra Ann Miller as Mary Todd Lincoln also accompanies Michael in presenting educational programs to hundreds of schools throughout the U.S. as well as in the original performance, Visiting The Lincoln's, a production which the MACVB will be bringing to Macomb on a future date.
Krebs is a proud Leatherneck graduating with a degree from Western Illinois University's Department of Theatre. And just like Mr. Lincoln himself, Michael stands 6'4" without his boots.
Michael as Lincoln is also featured via video as your virtual tour guide in Macomb's Looking For Lincoln National Heritage Area Self-Guided Tour attraction. Remember to add the tour and a visit to the Living Lincoln Topiary Monument to your Heritage Days weekend To Do list. Find out how on Unforgettable Forgottonia's website here: https://www.visitforgottonia.com/looking-for-lincoln-self-guided-tour/
And don't miss your chance to me, talk and even get a selfie with Michael Krebs as Abraham Lincoln at Heritage Days Friday afternoon and evening June 24th in Chandler Park.
Find out more about Michael Krebs' Lincoln at: http://www.withlincolnproductions.com/
And on Facebook at: https://www.facebook.com/withlincolnproductions/